Mumbai, a city made of seven islands in the country of India is known for many things! Would you dare to visit these places in the dead of night after reading this post? Would you venture into these places where you might just encounter a supernatural creature? READ AHEAD TO FIND OUT MORE ABOUT MUMBAI'S 13 MOST CREEPY AND HAUNTED PLACES IF YOU DARE!
1) Bombay High Court
(Did you expect this? hahaha….I guess not!)The Bombay High Court is  haunted by the spirit of a bilingual lawyer who keeps cursing and causing terror during many murder trials. Usually, he haunts a particular courtroom. He has been there for about 30 years now! The ghost scares the convict so much at times that he/she confesses to the crime almost immediately!
2) Sanjay Gandhi National Park
There have been multiple sightings of ghosts at SGNP, usually of people who died there due to animal attacks. One such ghost there, belongs to a woman dressed in white who mysteriously died there. She asks people for rides and then mysteriously disappears.
3) Marve – Madh Island Road
The Marve – Madh Island Road is haunted by the spirit of a woman in a bridal dress. She was newly married and was happy. that was until, her husband's family started to demand dowry that she wasn't able to pay.  Then one full moon night, her husband took her out of a long drive down this road, where he sped in front of a truck and quickly jumped out of the car, feeling betrayed by her husband, she died. Now, she only roams on full moon nights. Her cries, screaming and anklet clinkings can be heard. She continously distracts travelers at night.
4) Tower of Silence, Malabar Hill
The Tower of Silence in Malabar Hill is a Dakhma, a place where Parsis' dead remains are fed to the birds like vultures.  Although there have been no such sightings, people have always complained about a feeling of unease and uncomfort. It is believed to be haunted due to the eerie sounds at night.
5) Aarey Milk Colony
Aarey Milk Colony connects us to Goregaon and Powai. It is heavily populated with trees. Drivers and motorists usually avoid this route at night due to sightings of a ghost. The ghost belongs to a woman dressed in white with a child. She asks for a lift and just disappears. If the driver doesn't stop, she starts chasing the cars. It is belevived that black magic is also practised in the forests, even thoughit is banned by the government to practise there.
6) Mukesh Mills, Colaba
A long time ago (not in a galaxy), there was a fire that killed many people thousands of people at Mukesh Mills. Then, the mill was shut down only to be re-opened later when it was used to film horror movies and TV shows. Once. during a shoot, an actress says that her female co-actor had suddenly started speaking in a manly voice as if she were possessed. (Uncanny, huh?) The crew was immediately told to leave the place.
7) 8th Floor, Grand Paradi Towers
Many suicides and accidents have taken place on the 8th floor of Grand Paradi Towers. What makes it so creepy is the fact that all of the deaths followed a similar pattern. Three generations of the Dalal family have committed suicide the exact same way. There were many more mishaps and single deaths that took place there including a maid jumping off of the balcony because she did ot like her position in life, a girl jumping off as her family would not accept the boy she loved and an employee of a brewery company . After a havan, it was declared that the place was haunted by ghosts.
8) Vrindavan Soceity, Thane
The Vrindavan Soceity in Thane is dendely populated. People from all over India live there. A man living in building 66B was depressed and committed suicide in his apartment. Ever since, his spririt slaps watchmen during the night shift. Neighbours also comlain about hearing his footsteps in the night.
9) Nasserwanj Wadi, Mahim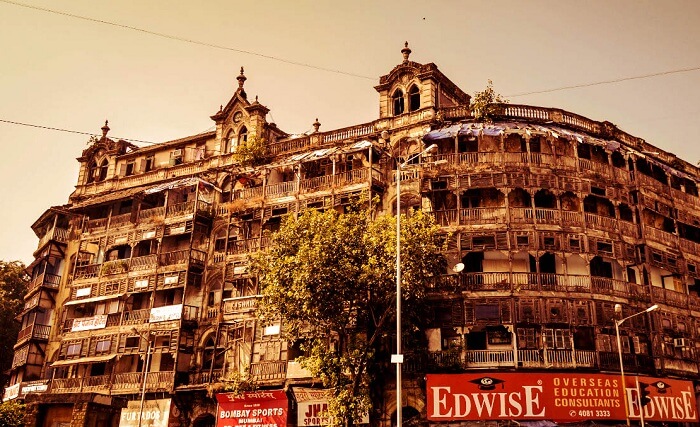 The compund belonged to a Parsi man named Nasser. Around 20 years back, he was burned alive near a well in that area. Residents have often seen his ghost walking around the perimeter of the compound.
10) D'Souza Chawl, Mahim
A woman who used to live in the D'Souza Chawl, fell into a well and died. Often referred to as "Lady of the Well". She is harmless bt people are advised to avoid the well alone at night. She dresses in a saree. There is another ghost sighting reporteed, a phantom of a guard under a fig tree near the well. There are often anklet noises heard from an invisible woman. While some people say that it is from the " Lady of the well" the theory is disputed.
11) St. John's, Andheri East
St. John's is a Potugese Church. It is 500 years old and is believed to be haunted for 300 years. The ghost there belongs to a hateful young bride who disturbs people in the vicinity of the church. The church was exorcised in 1977.
12) Taj Mahal Hotel, Apollo Bunder
Jamshedji Tata was once denied permission to enter the Watson Hotel by the British. So, in a rage, he decided to amke another building. On returning from his trip to England, he found that his hotel was made in the opposite direciton of his palns. The disheartened architect, committed suicide by jumping off of the 5th floor of  the hotel. There have been rumours since then of the ghost of the architect, W.A. Chambers walking down the Old Wing.
13) SNDT Girls College
The SNDT college in Mumbaiis known to have the presence of quite a few spitits. Residents living near the college state that a female makes noises by reciting multiplication tables at 2am followed by sounds of slapping and wailing of children.
---
A/N: Hey guys! Spooked? How many of these stories did you knwo about? Tell me in the comments section below or you can email me at – fluorescent.lighted.dreams@gmail.com
STAY AMAZING! xx 
---